Medica + Compamed as a reflection of the market
Good medicine not only demands high-tech solutions – the right benefits must be delivered
The demand-side markets for medical technology and medicinal products are undergoing changes worldwide and the supply side is providing the right answers with its solutions for high-quality but also economic medical care.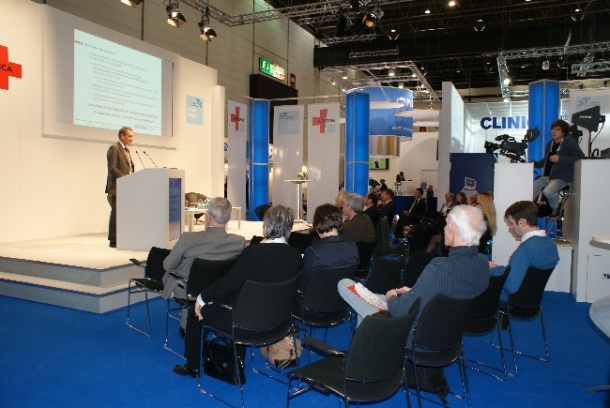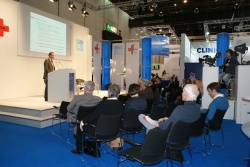 Everyone who attended the world's largest medical trade fair MEDICA as well as the leading trade fair for upstream suppliers in medical production, COMPAMED in Düsseldorf, was able to see this for themselves. The guiding motto "Be part of the No. 1" was followed by professionals from doctors' surgeries, hospitals, laboratories, retail, industry and the health care economy who were impressively present over the four days of the trade fair (14 – 17 November) while making for stable attendance figures in the fully booked exhibition halls. One trend that has been visible at MEDICA for years now even increased: There are more and more top decision-makers also from the commercial divisions attending. Altogether 93% of the 130,600 trade visitors (2011: 134,500) had decision-making competence. Since health care professionals in the middle management are subject to especially strict travel restrictions the percentage of international visitors (with longer travel routes) is always also indicative of a high ratio of decision makers at MEDICA. One in two visitors came from abroad and from more than 120 countries in total.
"MEDICA is a true reflection of the market. Tight health care system budgets worldwide prompt more and more commercial departments and sickness funds to intervene in investment decisions. Furthermore, the purchasing power in hospital associations and chains centres on fewer and fewer top decision makers," explains Joachim Schäfer, Managing Director at Messe Düsseldorf. Schäfer also regards this as a confirmation of the long-term marketing strategy agreed with MEDICA's Advisory Board: "With new event formats such as the MEDICA ECON FORUM, the re-oriented MEDICA HEALTH IT FORUM, the English-speaking seminars at the MEDICA TECH FORUM or target-group specific themed campaigns we directly address the decision makers that count in the exhibitors' eyes. Because exhibitors want class rather than mass at their stands."
MEDICA's role as the No. 1 market platform for international business is also underscored by Hans-Peter Bursig, General Manager of ZVEI – Electromedical Technology Association: "Especially small and medium-sized enterprises from Germany can leverage MEDICA very well as a platform for developing key foreign markets. The high demand for medical technology products `made in Germany´ and the highly international flair of the trade fair are two elements that complement and promote each other."
The high international flair amongst visitors to MEDICA should have been very much to the taste of suppliers. Also making a decisive contribution to this every year are the numerous groups of visitors from other countries such as South America, North Africa and Asia, to name but a few this time.
Innovations – robust and universally usable
The MEDICA ECON FORUM (Hall 15) with content devised by the Techniker Krankenkasse sickness fund enjoyed good visitor response from the outset. Boasting high-calibre participants from political spheres (e.g. North Rhine-Westphalian Health Minister Barbara Steffens), industry, sickness funds and health care practitioners, the lecture series and roundtable discussions essentially addressed the question of how patients can share medical progress in a commercially viable manner and what benefit innovations can deliver here.
By focusing on this topic the MEDICA ECON FORUM picked up on a central issue that also increasingly influences the business strategies of the 4,554 MEDICA exhibitors (from 64 nations) with their product and service ranges for out- and in-patient treatment.
Due to the cost pressure characteristic of nearly all predominantly state-financed health care systems not only high-end technology solutions are in demand. Users also ask for robust, affordable products and systems for the widest possible spectrum of uses. Serving as an example are medical imaging systems (such as ultrasound). Here vendors have started to also equip medium-priced equipment with advanced imaging technologies and ultrasound probes that were previously only available in the up-market segment of devices. Additionally, updates make for new operating functionalities without having to exchange the whole system for a completely new (more expensive) device.
Likewise, the exclusive product orientation is gradually replaced by total solution approaches. "These include e.g. financing, after-sales services and even modular service packages precisely tailored to the varying needs of hospitals and doctors' surgeries," says Jochen Franke, Chairman of MEDICA's Advisory Board and CEO of Philips Healthcare, outlining the trend of medical device manufacturers increasingly developing into full-service providers.
Focal Point Health IT: compact, mobile, networked
One focal theme at MEDICA 2012 is Health IT. There is rising demand for compact solutions for a better networking of health care players, such as for the data transfer amongst physicians and between physician and patient. Tablet PCs or smartphones are therefore "on the advance" in surgeries and hospitals, as are the mini software programs "Apps" that match the medical field. "Mobility IT" is the buzzword that moves the sector. One overview of the wide variety of useful health Apps was provided by the "AppCircus" coordinated by the company dotopen as part of the MEDICA HEALTH IT FORUM in Hall 15. Worth mentioning here is the Symptom Tracker application, a mini software with a diary function designed to precisely record symptoms, drug administration data and doctor's appointments. Also easy to handle and yet boasting many functionalities is the PhysioForm App. It allows physiotherapists to draw up and store exercise and treatment plans for patients and even carry out real-time patient monitoring to check on the exercises.
The "Enscheiderfabrik" also addressed the topic of mobile devices in addition to the Best Practice project presentations at the Live View joint stand (Hall 15); in the info session presented as part of the German Hospital Day insights from a study commissioned by several hospital chains were conveyed on the experience gained with the use of mobile devices for various applications (e.g. for mobile visits or for nursing care).
If more and more data is to be available in a digital, flexible and mobile format the question of safe data storage arises, especially when data storage is "outsourced" through Cloud computing. Therefore the question of which medical data is permitted to be stored on external processors, which legal aspects need to be taken into consideration and, above all, which medical benefits can be derived from storing data in the Cloud received plenty of attention in the lectures and discussions at the MEDICA HEALTH IT FORUM. Concurrently, trade visitors were given the opportunity by the exhibitors' innovation presentations to learn about the Medical Cloud, the world's first health care Cloud solution complying with legal provisions (CompuGroup Medical).
Congress Programme: Top Themes Concisely Conveyed
The MEDICA Congress was well attended across the board attracting several thousands of participants and covering an extensive range of topics from intensive care to homeopathy on all event days. Apart from the popular "training courses" on state-of-art equipment (e.g. ultrasound, microscopy) pediatric and youth medicine were particularly in focus this time. Forming an integral part of MEDICA, the 35th German Hospital Day, the leading information and communication platform for all hospital managers in Germany, especially addressed the various aspects of personnel management this year under the heading "Future Business Health – Priority Personnel". Federal Health Minister Daniel Bahr was the most prominent among the 2,100 participants. In the kick-off event he praised the outstanding position of the health care sector as being one of the few growth sectors capable of offering safe jobs over the next few years.
Upstream Suppliers – Best Partners for Product Development
Held in parallel with MEDICA was COMPAMED, the leading international trade fair for suppliers to medical device manufacturers with 645 exhibitors from 34 nations. In the two exhibition halls (8a and 8b) over 16,000 visitors could convince themselves of how closely the upstream suppliers cooperate with medical device manufacturers in terms of product development today. Suppliers are increasingly focused on ergonomics. Be it ultrasonic equipment, OR workstations or patient monitors – despite continuous performance improvements in medical devices their handling is getting constantly easier. This is made possible by modern touch-screen GUIs and intuitive menus as customised by selected COMPAMED exhibitors for med-tech providers. The trend towards miniaturisation, ever more compact and yet more complex systems, e.g. tiniest components for so-called lap-on-a-chip applications, was the theme at the joint stand of IVAM – Association for Microtechnology. Current supply market trends were also addressed at the two technical forums integrated into COMPAMED, which specifically targeted experts for manufacturing processes and product development.
For information online go to: http://www.medica.de and http://www.compamed.de
Dates of the next MEDICA in Düsseldorf: 20 – 23 November 2013
Dates of the next COMPAMED in Düsseldorf: 20 – 22 November 2013
For the dates of the next international medical trade fairs held by the Messe Düsseldorf Group go to: http://www.world-of-medica.com