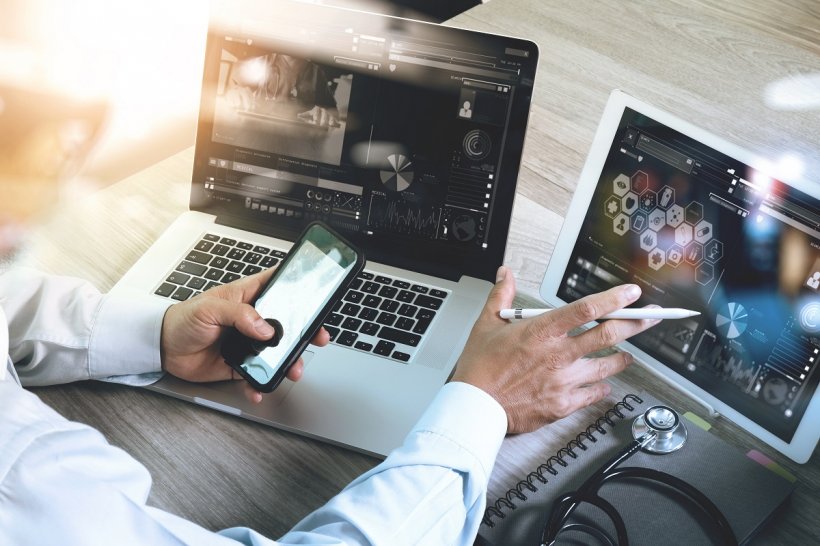 Shutterstock/everything possible
Article • Health IT
Interoperability: Insights from Down Under
With interoperability stalled, participants (stakeholders) are seeking new ways to create an interoperable ecosystem. In an interview about his presentation at the German Interoperability Day (25 October), IT specialist Jason Steen describes the state of interoperability in Australia and calls for more governmental commitment and international standards.
Report: Sascha Keutel
Interoperability is crucial in healthcare – 'It matters for historical reasons and improves episodic care,' says IT specialist Jason Steen. 'The more clinicians know about their patients, the better service they can give.

'Another reason is the number of parties involved in an episode of care. Multiple parties could work on different systems that need to share information. Furthermore, in a healthcare system where you're paying for tests, interoperability reduces duplication costs.'
Making interoperability work in Australia
'Australia is a federation of fairly autonomous government entities, the States. Acute healthcare is provisioned state-by-state through both government and private hospitals, funded through budgets and private health insurance. General practice care is provisioned through private clinics and funded federally. This hybrid in both funding and provisioning in Australia drives the need for extensive interoperability. The Australian Digital Health Agency was formed by the federal government to assist in standardising approaches to digital Health care across the country.

'For interoperability, the stakeholders are governments and private companies providing care, international and local software vendors, and the patients themselves.'
The state of interoperability in Australia
'Compared to other nations, Australia is in pretty good shape. However, there is a lot to be done. Especially, when you compare it to other industries.

'In Australia, the patient can transfer between different parties while in one hospital. When discharged, the clinician might hand them a letter of referral, the patients take that to the next clinician. They read that referral and re-enter the patient data into their systems.

'That's not how the banking system works. We are not walking around with pieces of paper between banks transferring money around. To me, healthcare information is more important but is transferred around less desirably.'
Why does healthcare lag behind other industries?
'The pace of change has been my biggest frustration in this industry. Particularly when most people know what the problems are. It is not a question of educating everyone on what needs to change. We're lacking the one organisation having the self-interest to make that change happen.

Other industries have adopted a more digital world faster than healthcare. If you are a bank, you want to know if your potential customer was late with previous mortgage payments from a different bank. One telephone provider wants your calls to connect to another provider. So, there is an incentive for the institutions to make interoperability work.

For healthcare, no country has gotten the incentive model for making interoperability work right. If you are a software vendor, what is your incentive to make your software interoperate with other systems? If you are a hospital, where is the interoperability of information in your list of priorities?'

'I don't see interoperability taking huge leaps until the incentives model changes - either by customer pressure or through government legislation.

'Patients can't enact the normal market forces on their suppliers like they would with a phone company. They don't exercise that power of a customer at the point of care. They will not refuse to be treated in a hospital that lacks a certain level of interoperability. A customer would refuse to sign up with Vodafone if you could only call other Vodafone customers.

'So, we require government engagement. We need a baseline across the industry to have certain software have a specific level of interoperability. In America, Congress got involved and the Argonaut project was created. It implemented a bare minimum of interoperability, executed by software vendors.' We need more of that globally.
Should standards be international?
'Yes. We need international standards because we have international vendors. Some bodies exist already that could be leveraged. Such as the FHIR standard, which emerged through the HL7 community.

'Australia has a population of roughly 25 million people. Most of our healthcare software comes from overseas. If we aren't conforming to some international standards the way we transfer information around, too much customisation would have to be done for a small population of people. Few countries could justify their own proprietary standards, resulting in massive costs from a software provisioning perspective.

'If a country doesn't adopt international standards, it hamstrings the local innovation and software development community. They might develop something very useful, but if it only interoperates in a proprietary way in your country, they limit their market solely to your country.

Some argue that 'It's easier for governments to come up with their own standards and match those to international standards later, because there is less engagement, and they can progress at speed. However, history shows that by doing it that way, there is never a point reached when you're matching up to international standards.

Profile:
Jason Steen has an IT career of 25+ years. He recently finished a 5-year term as Chair of HL7 Australia. For the last 10 years, his primary focus has been the successful enterprise architecture implementations within large-scale organisations, including head of Enterprise Architect at eHealth New South Wales (NSW), Australia.