Video • Equipment
Hygiene committed: Pentax Medical addresses the challenges in endoscopy
Recent publications have stated that several outbreaks have been caused by insufficient drying of duodenoscopes. Due to their complex design, duodenoscopes have been long recognized to require thorough processes and precise execution to properly disinfect. Ulrike Beilenhoff, former President of ESGENA explains, "If you do not clean the endoscope properly then you leave residual debris. If you do not dry the endoscope it creates a perfect environment to breed germs."
Understanding the hygiene challenge
In practice, the drying of the endoscope is often underestimated and therefore a possible pitfall for hygiene and reprocessing steps

Daniel Vinteler
The Retrograde Cholangio-Pancreatography (ERCP) procedure remains safe and provides clinicians with a significant diagnostic and therapeutic utility for disease evaluation and treatment. The procedure has been well demonstrated for a variety of disorders, such as the management and treatment of biliopancreatic diseases. Yet, during scope reprocessing it is highly important to follow the complete instructions, "if one of the steps is not performed correctly, hygiene is not guaranteed. In practice, the drying of the endoscope is often underestimated and therefore a possible pitfall for hygiene and reprocessing steps" explains Dr. Daniel Vinteler, CEO and Founder of Plasmabiotics.
Hospitals need an easy and fast system to dry endoscopes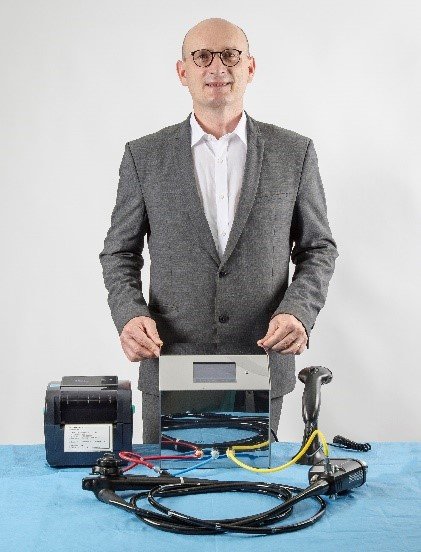 Ulrike Beilenhoff echoes these sentiments, explaining that time constraints in hospitals present challenges to effective drying and storage. Surveys showed that nurses and reprocessing staff work under time pressure. Even though they are aware of the importance of thorough cleaning and drying, it can be challenging.
Pentax Medical's solution to improve patient safety
For this reason, Pentax Medical is actively listening to their customers and stakeholders, so that they understand the complexity of the procedures and the risk of infection. Dr. Vinteler presented the PlasmaTYPHOON at ESGE Days 2019, in Prague. The PlasmaTYPHOON is the first solution that can guarantee a dry endoscope in less than five minutes1, depending on the type of scope, and storage, up to 31 days2,3 depending on the specific of each countries, in a fully controlled environment.
Reshaping the healthcare environment
As the importance of ERCP procedures and their impact on patients' lives remains unwavering, Pentax Medical is committed to addressing the hygiene challenges in endoscopy. By offering solutions that minimize the risk of infections, improve clinical outcomes, enhance provider experience, and increase healthcare productivity Pentax Medical aims to challenge and continuously reshape the healthcare environment.
For more information, please take a look at: the-hygiene-solution-that-fits.com
References:
1 Evaluation of the efficacy of a drying unit for internal channels of endoscopes according to NF S98-030- Test Report by Biotech-Germande February 2015
2 Evaluation of the ability of a storage system (plasmabiotics) to maintain the microbiological quality of heat sensitive endoscope. Report by Biotech-Germande April 2017
3 The maximum storage time may be subject to local regulations on endoscope storage. The country regulation can restrict the maximum storage time to 7 days. Please refer to the relevant regulations or recommendation of your country.
Source: Pentax Medical