Arab Health 2016
Healthcare Industry Leaders are set to unveil the latest innovations
Arab Health 2016 will provide access to a market of more than 400 million people through its 36 country pavilions and offer a platform for the region's healthcare providers and buyers to collaborate and present the latest tools and innovations for improved patient care. Companies will seek to bring their innovative solutions and investigating future opportunities and introductions to potential business partners to the Middle East market.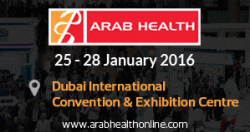 Arab Health 2016 will offer the right combination of inter- industry collaboration and public and private sector investment that will drive growth and ultimately improve access and quality of care across the GCC and the Middle East.
Celebrating 20 years of organising the U.S. International Pavilion, Kallman Worldwide, Inc. will produce the largest ever exhibition area for American companies in 2016, which include industry giants such as GE Healthcare, Becton Dickinson and Dell. "When the United States commits to exhibit at Arab Health, we're saying we believe in the power of this event to attract real business prospects and customers. The steady growth and diversification of this show — and our exhibitor community — speaks for itself." said Kallman Worldwide President and CEO, Tom Kallman.
Mr Formosa Lu, President, Formosa Cultural Corporation, has been bringing Taiwan's most innovative healthcare companies to Arab Health for many years and believes the event is the most professional business platform for the industry. "Investing in a Taiwan country pavilion is the best way to enhance the synergy between exhibitors from our country and professional visitors from all over the world," Mr Lu said.
This sentiment was echoed by Mr Juergen Meyer-Haake, Meyer-Haake GmbH, Germany, whose company exhibits as part of the German pavilion, hosted by Tradex. "We would recommend other companies to participate at Arab Health, "he said. The German pavilion is to be honoured by a visit from the German Federal Ministry of Health, including The State Secretary of the German Ministry of Health, Mr. Lutz Stroppe.
Business France is the national agency responsible for bringing companies to the French pavilion and has seen the number of participant's increase each consecutive year, making Arab Health the preferred trade show for French companies working in the healthcare arena. This year 134 French companies will be taking part in the event, one-third of which will be attending for the first time.
The UK pavilion, led by the Association of British Healthcare Industries (ABHI), is hosting 150 UK companies, and will be showcasing many of their innovations. The fully equipped operating theatre will provide a hub for interactive audience participation and a stage for a program of simulated surgical demonstrations led by leading UK clinicians.
Peter Wheeler, International Manager for Medilink, UK, said: "We've successfully hosted a Yorkshire Pavilion at the show for many years and during this time we have really seen the exhibition grow to become a must-attend event for companies looking to do business in the Middle East." The Yorkshire Pavilion will be representing 25 companies, including Sidhil, which expects to attract significant attention at Arab Health with a range of innovative product launches predicting the future for modern hospital care."
One hundred and forty-three companies from Italy will exhibit their innovative solutions at Arab Health, supported by key national institutions and associations such as Umbria Biomedical Cluster and Agenzia Promozione Economica Toscana. Armando Honegger. CEO of Honegger Company, said: "Italy is a very competitive country on an international level for the medical sector, the quality of the Made in Italy products is really appreciated all around the world."
The Swedish pavilion will showcase the innovations of 24 Swedish companies including Bioservo Technologies, which develops, manufactures and markets high quality healthcare robotic products. This year at Arab Health they are demonstrating a robotic glove that empowers those in need of extra hand strength for day-to-day tasks.
Japan is set to provide mutual trade and investment with the UAE and the Middle East, utilising Arab Health as a platform to access the wider ME market. 14 Japanese medical device companies will be present at the exhibition, bringing the most innovative technologies from the second largest medical device market in the world to the UAE.
Country pavilions also include Turkey, who will display medical devices, primarily surgery tools that will greatly benefit patients in the Middle East. Technologies being exhibited include ultrasonic surgical devices, products for plastic surgery, and robotic rehabilitation systems.
For more information on Arab Health 2016, please visit www.arabhealthonline.com.
Source: Arab Health