Health IT – Italian style
Unstructured workflow' sounds like a contradiction in terms. Yet, this fresh approach for gathering individual patient records in the Veneto region of Italy is being rapidly adopted across Europe to improve care.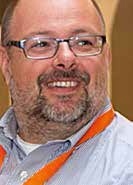 Italy's Veneto region is stubbornly independent as well as famously innovative. Once the heart of a maritime empire, Venetians today are leading the world in navigating oceans of digital data in order to support to primary care delivery for the individual patient. 'It's the Holy Grail of healthcare IT,' declared Claudio Saccavini, Technical Manager of Arsenàl.it, the centre for Research and Innovation in e-Health for a consortium of 23 health authorities and hospitals in the region. 'To follow a patient home from the hospital we either need to send someone from the hospital, or we need to have a flexible, adaptable e-health system to share the patient's progress on the care pathway.'
Beyond home care, radiotherapy presents a good example of the challenges of organising patient medical information along a chain of care. Radiotherapy may begin in a hospital but often continues with follow up exams for results at a private radiology clinic three months later, and then an assessment of the results by a multidisciplinary care team in another location.The unfortunate state of healthcare today is that each change of location usually means records are kept on a different health IT system with a different patient identification and different way of handling the sequence of patient care. As a result, sending a request for the patient's records results in a jumbled return of documents and information unrelated to the treatment. The key to unlock data to support patient-centred care is called XDW, or Cross-enterprise Document Workflow, an integration profile for heath IT put forward by Arsenal.it and published last September by Integrating the HealthcareEnterprise (IHE).
'XDW allows an unstructured workflow for documents, which is more typical of the real world,' explained Claudio Saccavini, who led the development with project engineer Arianna Cocchiglia. In other words XDW creates a workflow-independent infrastructure that allows loosely connected, distributed IT environments to work together. The open-source method of IHE means the protocol can be readily accessed and implemented by any e-health project or private software developer. In May, 2012, at the IHE Connectathon in Bern, Switzerland, 12 different systems arrived ready to test their implementation of XDW to be sure they can interoperate or share data with any other system. 'XDW is very important for our systems,' said Lapo Bertini, head of marketing for Dedalus Healthcare Systems Group, a leader in Italy for general practitioners and primary care paediatricians.
'Workflows begin inside a hospital with a centralised management systems, but these records are part of a larger care model as patients move around where the hospital's workflow is not desirable, or in many cases, not possible.' XDW gives a signpost saying, 'The patient went here,' he added. Other leading software vendors specialising in health IT that arrived to test XDW at the IHE Connectathon in Bern were Tiani, from Austria, and Forcare from the Netherlands. Adoption of a new IHE profile by 12 systems in less than seven months is unprecedented, according to Harm- Jan Wessels, the Managing Director at Forcare: 'XDW is a significant advance in managing documents linked to a single patient and with it we are stepping into a new class of challenges for seamless delivery of health care. Healthcare professionals want to cooperate, a doctor and patient want to share, interact and discuss,' he added.
'We are really talking about coordination of care, and this is exactly what XDW provides, standards-based, clinically oriented workflow to make healthcare delivery more flexible, transparent and location independent.' The XDW profile provides rules to govern a patient pathway using a mechanism that adapts to variations in care sequences. 'If we defined the pathway rigidly, physicians would not use it,' Claudio Saccavini pointed out. Being unstructured, patient care events can be recorded in any order. When the records are later retrieved for a patient on a pathway for care, the sequence of care can be analysed by any medical or business administration software. With the XDW foundation, the next step is for the IHE community to be to apply it to specific care paths, such as tumour boards, mammography screening, eReferral, pharmacy. In mammography screening, Claudio Saccavini said, Italy, France and Canada are working together to define the path and show how local definitions can be incorporated within the looser structure.
PROFILE
Claudio Saccavini, Technical Manager of Arsenàl.IT, Veneto's Centre for Research and Innovation in e-Health, is a leading contributor towards achieving interoperability for data exchanges between health IT systems. In 2009, he played a key role in putting together the Health Optimum consortium that connects the Veneto region and five European Member States for neurosurgical tele-counselling, tele laboratory and stroke management. In 2010 he led international testing to validate an interface to track a single patient under multiple identification numbers. Building on these experiences, in less than a year he successfully led the effort to gather documents for one individual patient in a shared file.