Global PACS, RIS & CVIS markets to exceed $4.5 billion by 2016
With decreasing budgets, healthcare providers are under increasing pressure to develop effective means of improving efficiency and reducing costs, whilst maintaining high levels of patient care.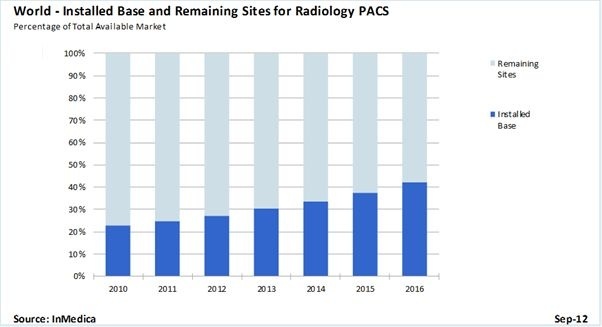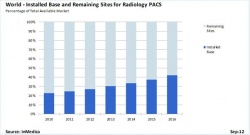 InMedica, a division of IMS Research (recently acquired by IHS Inc. (NYSE: IHS)), forecasts the world market for picture archiving and communication systems (PACS), radiology information systems (RIS) and cardiovascular information systems (CVIS) to grow by more than $1 billion over the next 5 years, according to a new database, The World Market for PACS, RIS and CVIS- 2012 Edition.

Enterprise-wide integration is of increasing importance across healthcare IT and there is rising demand for PACS, RIS and CVIS to be incorporated into hospital IT systems. In addition, growing hospital consolidation, demand for advanced reporting analytics and managed service business models are all driving growth in the PACS, RIS and CVIS markets worldwide.

"With growing demand for collaboration across the care-continuum, healthcare IT systems are increasingly being utilised to achieve enterprise integration and multi-disciplinary patient care. The requirement for enhanced workflow efficiency, integration and data accessibility will continue to drive growth in the global PACS, RIS and CVIS markets," commented Rhian Thorburn, analyst at IMS Research.
In 2010, the installed base for radiology PACS was estimated to be 23 percent of the total available market; and InMedica forecasts this to reach 42 percent by 2016. The radiology IT market is reaching maturity in several developed countries, with the large-scale market in North America projected to reach saturation by 2015. Healthcare providers in the more developed regions are turning their focus to cardiology IT; for large-scale hospitals, there is strong demand for integration of cardiology within the hospital enterprise to improve workflow efficiency, data access and ultimately, enhance patient care.

"An emerging trend in the cardiology PACS market is the consolidation of multiple modality-specific cardiology systems into one holistic solution. This is driving growth of cardiology PACS revenues and is consistent with demand for hospital-wide PACS integration," continued Thorburn.

In developing regions, the focus is to improve healthcare infrastructure and provision, to align with more developed markets. Furthermore, increased acceptance of PACS and RIS to improve workflow and productivity should drive strong growth in many of these countries, including Brazil and India.