Europe's first fully digitised hospital
He was among the pioneers of hospital digitization. Way back in 1988, Professor Walter Hruby, Chair of the Institute for Radiological Diagnostics at the Donauspital Vienna, in Austria, decided that, when his hospital opened its doors, state-of-the-art technology would be implemented. Thus, in 1992, the Donauspital became Europe's first, fully-digitised hospital. Today, recollecting that progressive move, Prof. Hruby declared: 'The sweat and tears were definitely worth it!'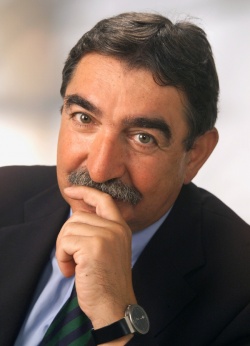 'Medicine today,' Professor Walter Hruby reflected, 'would be inconceivable without information technology; the increasing penetration of full digitisation can be felt in all medical departments – along with the resulting advantages for all involved. The ability to examine and diagnose online, to have information available in different places at the same time, to use voice recognition, and so on – all this has improved our work a lot. I'm therefore very pleased and proud that we were at the cutting edge of this technological advance in Europe, and the contribution we made.
The implementation became a longer process than planned. What obstacles were overcome?
'Convincing the decision makers initially took quite a bit of time. Once we got the green light from the city and the hospitals association, regarding space and costs, that's when the work really began. We were involved in all the different technologies to be implemented from the start. Playing an active part is indispensable. As a user you have to know what facilities you expect and how you'd like to see them implemented. We're not only customers of electronic data processing but also partners, part of the system, the human interface so to speak. Even today, doctors and systems specialists still meet on a weekly basis to give feedback and ensure everything works properly.
How was the IT provider chosen?
'We talked to many providers and then decided to go with Siemens, and we continue to do so today. However, when it comes to digital equipment, in the hospital archive and workstation structure there have been fascinating developments amongst all providers, so there are now outstanding products, both for quality and performance, also being offered elsewhere.
Is the hospital completely paperless?
'Regarding assignment and return of diagnosis we've been paperless right from the start, and we now also operate paperless within all other structures. We have a network of all available patient data that extends right across Vienna. The city-wide hospital information system has been in operation for over 25 years and is currently being replaced by a new system.
Isn't it extremely complex to replace the system?
'No. We already restructured the systems in our own department i.e. the radiology information system and the archive, five years ago, and the problem of logistics required for data immigration has basically been solved. It's vital during the planning stages that every step is clearly planned and that a very clear logistic structure with the corresponding security concept is developed. This meant that a small team, consisting of decision makers and those responsible, started meeting up regularly from about nine months beforehand, to clearly define the individual steps so that, during the actual implementation phase and the required parallel operation, no one even noticed anything because, as part of the project, we exchanged the internal network for a 2GB/sec data line.
What was the recipe for success?
'My colleagues,' Prof. Hruby affirmed. 'They've shown the necessary understanding and patience if something has not quite worked correctly right from the beginning. Moreover, our cooperation is so disciplined that we handle all processes almost within the same day, so that everything, from transmitting the diagnosis to the clinical team meeting, is done very promptly. On weekends alone, I examine an average of 700 patients, which requires tight organisation. For example, patients are only collected in time for their appointments – this gives us more time and calmness for the examination and we can avoid waiting times. The only area that cannot quite be controlled in this way is the out-patient department, but we work with the necessary flexibility there. Information technology supports and promotes our commitment to patients so that we improve even further.'