EurAsia Heart
By Olga Ostrovskaya, EH correspondent in Russia
The Swiss charity EurAsia Heart, founded in 2006 by cardiac surgeon Professor Paul Vogt MD, at Zurich University Hospital, emerged from numerous contacts being made with Asian heart surgeons at the beginning of 2000, and consequent invitations to perform surgery and lecture tours in China.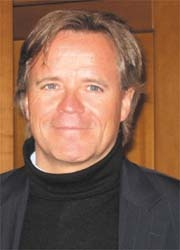 At that time Prof Vogt realized there was little benefit for surgeons from other countries to visit Switzerland, to listen, see how Swiss surgeons worked, but not do anything themselves. As a result he formed EurAsia Heart to enable European surgeons to operate in other countries.
The organization now has a medical network in Eastern Europe and Asia and a team of surgeons are committed to working for the foundation. Their aims are to provide poorer patients with appropriate treatments and to lower mortality from cardiovascular diseases worldwide. Today, the charity has international partners in countries such as China, Vietnam, Malaysia, Thailand and India, where many clinics want further educational cooperation and training while working on their own patients and with their own materials.

In Russia, many patients cannot receive the good treatment needed; the mortality rate for cardiovascular diseases is 25,300:100,000. Anxious about education for young surgeons in Russia (many modern medical centres were built, but the country had very few great surgeons), in 2005, Professor Evgeny Shlyakhto MD, Director of the Almazov Heart Centre in Saint-Petersburg and Corresponding Member of Russian Academy of Medical Science, founded the Russian charity, the Almazov Foundation. The Foundation's programme for fellowships and educational exchanges for cardiologists, surgeons and anaesthetists, is titled 'A precious experience'.

The main mission of Almazov Foundation is to unite scientists, officials, businessmen and so on, who have an interest in the development of scientific cardiology and cardiac surgery in this country. It supports young Russian physicians to improve their techniques and knowledge via broad international cooperation.

This summer Prof Vogt and Prof Evgeny Shlyakhto met in Saint-Petersburg, where he signed a letter of intent for education and the exchange of cardiovascular knowledge as a common goal between EurAsia Heart
and the Almazov Foundation. In Novosibirsk, Prof Vogt also saw academician E N Meshalkin, of the State Research Institute of Circulation Pathology, where EurAsia Heart surgeons operated and lectured daily.
Part of the letter of intent read: 'We look forward to working together on a basis of mutual respect, recognition and enthusiasm, which will surely end up in a fruitful partnership following our common goal – to provide everyone with the appropriate medical and surgical treatment they need.' Great words, which it is hoped will result in very real activities.