Win a Dragon Medical 10 speech recognition software
Simply visit our homepage!
Dragon Medical 10 the speech recognition software from Nuance, helps doctors and other medical specialists to achieve efficient and accurate clinical reporting.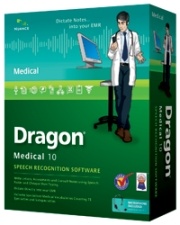 The software includes medical vocabularies covering 75 medical specialties and subspecialties, and Nuance reports that it achieves 99% accuracy.
Using the software you can navigate clinical systems and dictate medical diagnoses and treatment choices directly on to an electronic patient record (EPR).
Dragon Medical 10 can be used to dictate anywhere in your clinical system and will help speed up dictation, provide greater accuracy, eliminate transcription costs, and allow more time for patient care.