Interactive patient care
Previously, we outlined how interactive technologies at the point of care support the goals of personalizing the patient experience and improving patient satisfaction.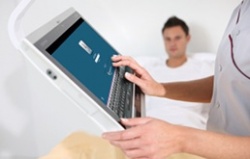 Interactive services at the bedside – including high-quality entertainment, communication, education, and feedback options – are the first steps towards increasing patient focus and allowing healthcare providers to position themselves for success.
Interactive patient care also addresses other key challenges in today's healthcare industry, including staff shortages and budget constraints. Opening up opportunities to streamline clinical workflow and tap into new revenue streams, interactive technologies improve both hospital efficiency and profitability.
Bedside access to critical patient clinical data
Using the power of existing IT systems, interactive patient care gives healthcare professionals access to a host of hospital applications (e.g. HIS, EMR, PACS). Capturing information electronically directly at the bedside reduces the time spent on non-clinical tasks and enables a more patient-centric workflow.
It's this constant drive to improve the quality of care that is fuelling the quick adoption of interactive solutions. A study in The Annals of Family Medicine found that 80% of error chains in medical cases are caused by miscommunication between physicians, misinformation, and inaccessible medical records. Powerful computing functionality at every bedside could literally save lives.
Streamlining routines saves money
Clinical access at the bedside dramatically reduces the burden of administrative and other non-clinical duties, translating into tangible benefits. A study performed by Deloitte found that clinical access at the point of care delivers financial benefits worth at least €465,000 per year in a typical 500 bed hospital and would save the equivalent of 14 members of staff per year.
Interactive patient care offers additional tools to streamline everyday hospital routines, including meal ordering, room and bed control, and nurse service calls. Automation allows patients to manage these routines themselves, driving patient independence while freeing busy staff for other duties.
Additional sources of revenue
Spurring improvements in clinical workflow and the quality of care, interactive technologies provide hospitals with real cost savings as well as new revenue streams.
Beyond doubt, empowering healthcare staff to increase their productivity and throughput will benefit the hospital's bottom line. The consolidation of various hospital systems (telephony, television, Internet, etc.) into a single interactive IT platform reduces the total cost of ownership, producing additional savings.
On top of that, these systems allow up-selling and promotion of local services, such as pre-packaged entertainment bundles, through various advertising options. By fostering awareness of available services, patients are encouraged to consume more, which maximizes yield and helps hospitals get the most out of their investment in IT.
Not optional, but critical
In today's highly competitive healthcare industry, the investment in interactive technologies generates multiple benefits for every stakeholder in the hospital. With an increased focus on patients, in a time when budget constraints and staff shortages make the delivery of care challenging, interactive patient care isn't optional, but it is critical. (mr)