Italy
The Treviso ULSS 9 experience
IT introduction is increasingly considered a strategic element, since it is capable of supporting different decision processes at various levels (top management, middle management and professionals) and guiding them towards concrete objectives: cost control and containment, improved efficiency, evaluation and enhancement of service quality.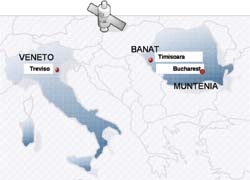 Italy has a specific policy to improve IT implementation, particularly in public administration. Central topics:
• digital management of administrative workflows
• use of digital signature and management of documents workflow (signature, distribution, conservation, etc.)
• the use of only digital documentation (paperless)
• use of electronic smart cards (CIE Electronic Identity Card, CNS National Card for Services)
• development of a national network connecting public administrations.

All public administrations and healthcare structures are shifting towards those objectives, and some actually represent a beacon in IT implementation.

In recent years, Treviso Local Health Authority ULSS 9, in Veneto, has invested in the development of technology projects, in the implementation of ICT prototypes and in the adoption of telemedicine services and applications. This has resulted in considerable improvements for users and providers alike.

Treviso is improving its healthcare services by setting-up telemedicine applications and full digital management of medical documents. Treviso Hospital leads two important, closely connected projects: Health Optimum and Escape/TeleMed-Escape. It also manages Near to Needs, an innovative satellite communication project.

Approved and co-funded by the European Community within the eTEN programme, the telemedicine project Health Optimum involves Italy, Spain and Denmark. Its aims are to validate existing application experiences and demonstrate the value of organisational, procedural, technological and medical-legal practices applied in neurosurgical tele-counselling and tele-laboratory - services perfectly extendible to other specialities. This is possible through the significant re-engineering of processes obtained from Escape/TeleMed-Escape projects, which developed a fully digital system of signing, transmitting, delivering and storing clinical documents, and maintaining the privacy and security of healthcare data.

Health Optimum became the 'Best e-TEN project of 2005' and will be financed for dissemination, extending the project experience to other specialties and other countries, namely Sweden and Romania.

The satellite platform
Romania is already a Treviso partner in the Near to Needs (telemediciNE via sAtellite to bRidge iTalian and rOmaniaN hEalthcare and EDucational Services) project. Co-funded by the European Space Agency (ESA), and important private supporters such as Gruppo Veneto Banca, (Veneto Banca and one of its subsidiaries, Banca Italo Romena), the Near to Needs project will develop and validate a pre-operational service to support diagnosis, treatment and medical training between two local health authorities in two different geographical areas of the continent: Treviso and Timisoara (Romania). Begun in June 2006, this project will end in June this year.

A healthcare structure is to be created in Timisoara County Hospital and directly connected to the Treviso local health authority. Using telemedicine services when necessary, the structure will provide care for Italian or Romanian employees of Veneto companies in Romania, as well as to Romanian citizens.

After analysis of the user groups and needs, the project coordination chose a telemedicine application for experimentation, envisaging the following services:
• Laboratory diagnostics through Point of Care Testing (POCT), to conduct tests in the polyclinics, then have the analysis and report carried out in a laboratory in Italy (tele-laboratory); this service will benefit from the Health Optimum experience and, using cardiac markers and a portable ECG, will allow a quick evaluation of cardiovascular diseases.
• Multi-functional radiology diagnostics (chest etc.) with the possibility of sending the data to Italy if a specialist opinion is needed (tele radiology).
• A tele-counselling position for real time consultations between Treviso and Timisoara specialists, to evaluate and/or discuss difficult cases (virtual referral and tele-counselling) e.g. suspected stroke or head trauma; the teleconsultation will be tested for neurosurgical and cardiology cases.
• An e-learning service to train staff and nurses: for academic purposes videoconference sessions between physicians will be organized and lessons for nurses also managed.

To share clinical information relative to a patient record (tests, radiological images, reports, tele-counselling opinions,…) the creation of an electronic patient record (EPR) is envisaged. A system based on the I.H.E. Infrastructure Technical Framework XDS (Extended Data Service) will be used to realise the EPR, while the telecounselling repository is set up according to the XDS profile architecture.

This will allow physicians in the polyclinic and specialists in the centre of excellence to access a patient's documents, naturally in accordance with local legislation for personal data protection.
Teleradiology workflow

The polyclinic has an antibiotic resistance reader to detect bacteria that cause nosocomial infections – by far the commonest complications affecting hospitalised patients. As well as monitoring those infections, the reader helps with epidemiological studies.

The Near to Needs project enables us to:
• promote synergies between different healthcare structures and training systems, cultures and working environments between Italy (an EU member state) and Romania (new EU member state)
• promote the integration and sustainability of ICT in daily healthcare provision and medical/nursing training
• analyse the potential of a satellite platform in healthcare, with a view to ESA's future telemedicine programme
• provide first aid healthcare services thanks to the help of medical and technical personnel in loco
• provide specialist healthcare because qualified personnel are connected remotely
• act as a star centre for network connections with local Romanian Centres of Excellence
• produce a complete electronic patient record (EPR) that can be consulted by the patient's physician, wherever he may be
• carry out epidemiological studies to prevent and safeguard against infectious diseases by introducing new tests and methodologies, following standards recognised at a European and international level.

In conclusion: For new EU members, such as Romania, delivering even basic health care and education to remote, sparsely populated regions has long seemed an almost insurmountable challenge. Today, thanks to the advent of broadband communication links, and advances in compression and image processing technology, telemedicine and tele-education applications are becoming cost-effective solutions.

Satellite communication is an efficient support to broadcast and multi-point communications for medical education and consultation sessions and, in particular, for the Near to Needs project, where an inter-hospital link has to be provided.

The use of telemedicine services should be considered one of the most appropriate service solutions to
• give prompt, effective answers for critical or borderline medical conditions
• provide safe diagnosis supported by specialists in centres of excellence
• overcome geographic limits caused by distance, providing qualified healthcare in a uniform manner and optimising time and patient transfer reduce costs, particularly those related to inappropriate admissions that could be avoided by specialist teleconsultations or to the expected reduction of transfers of borderline patients.

In this context satellite communications could play a crucial role in providing telemedicine services. The satellite connection is actually more versatile, reliable, seamless, fast, expandable and flexible than the terrestrial channel, granting a more efficient workflow in delivering healthcare through telemedicine.

As already proved with the Near to Needs project, and with its past successful experiences, the Treviso healthcare unit always stands at the sharp end of technological innovation.