Digital applications
Easily integrated and hygienically designed medical solutions
Healthcare organizations are now using modern technologies to enable digital healthcare to improve the quality and efficiency of their services. Digital healthcare emphasizes the provision of patient-centric medical services to deliver a superior patient experience, reduce operation costs, and enhance medical staff workflow. To facilitate digital applications in the medical environment, ADLINK has developed healthcare solutions including medical grade panel computers and tablets that support patient monitoring and patient data management in settings ranging from nursing to critical care. These solutions optimize clinical and operational effectiveness and are suited to various application scenarios including mobile rescue teams in ambulances, emergency rooms, hybrid operating rooms, and intensive care units (ICU).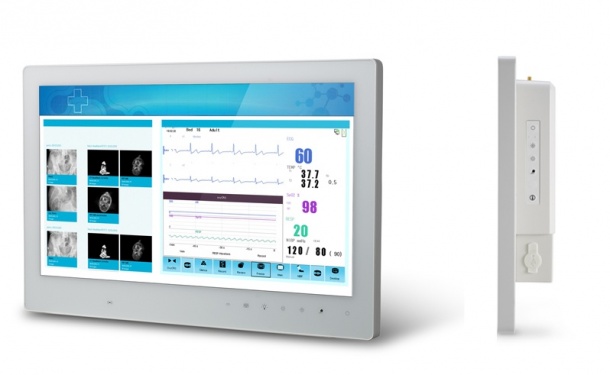 Increase surgical efficiency with medical panel computers
The MLC 5-21/23 medical panel computer is designed for use as a control platform in operating rooms or hybrid operating rooms and to provide easy access to PACS images, EHR and other relevant patient data. The MLC 5-21/23 allows surgeons and nurses to monitor the patient's vital parameters and other critical information during surgery, and lets them conveniently view scans and surgical images or manage video routing and switching.
The MLC 5-21/23 medical panel computer is medically compliant and designed for effective infection control. The fanless and fully-sealed construction minimizes the potential increase in bacteria growth resulting from contamination and dust and allows for effective cleaning to reduce healthcare-associated infections (HAI). The capacitive touchscreen allows for easy input and browsing of data, even while wearing surgical gloves.
Anywhere, anytime mobile access to patient data information
The IMT-BT medical tablet is designed to meet the needs of both emergency medical technicians (EMTs) in an ambulance as well doctors, nurses and other medical staff monitoring patients in the ward, accessing electronic health records (EHRs) and generating accurate prescriptions.
The IMT-BT medical tablet is medically compliant for enhanced safety, IP65 rated for effective disinfection and available with an optional office or vehicle dock to meet the needs of different working environments. The IMT-BT's USB and HDMI ports can be used for data transfer and connection to large screen medical displays for joint consultations between medical staff.
For more information, visit www.adlinktech.com