Cross-border care
The reality
Status quo of cross-border access to healthcare systems within the EU-Member States.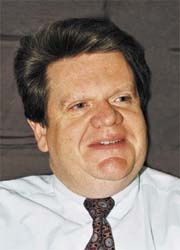 Several EU Member States expressed concern when, in 1998, the European Court of Justice first introduced a limited access to healthcare for visiting patients needing treatments, beyond the usual emergencies, which were then to be reimbursed by their own national healthcare systems. At first this related to all forms of outpatient treatment or health-related purchases of goods such as spectacles or other aids. The far more crucial question - whether or not access should also be granted for hospital treatment - remained a major bone of contention for several more years. However, with its final rulings in the cases of Smids/Peerboms, and finally Muller-Faure, the EJC made it clear that, in spite of existing restrictions, the EU healthcare market, with cross-border access to care, would be in the offing.

On various occasions, national governments have tried to come to grips with this rather unusual situation. Most of the first patients to be sent abroad for treatments had been on the long waiting lists common to many EU-Member States, though the shock waves of a true migration have not materialised. Following the first wave of information given in the press, this important subject is now quite distanced from public attention. This implies that it is difficult for Europeans to ascertain how to start with such a healthcare move and, above all, where to get the information necessary to present a well-founded claim.

The following summary gives an overview of the status quo of cross-border access to care. Regulation 1408/71 and International Claims Forms, e.g. E 111 or future technical replacements, such as the EU Health Insurance Card, gives access to care when temporarily abroad, e.g. as a traveller or tourist, or permanently so, as a pensioner having officially moved to another Member State. Basically the person presenting an E 111 claims form in a guest country will be treated like a normal patient resident in that country, so that benefits will be granted according to its system, as will the mode of co-payments or the degree of coverage.

Treatment of this kind is legally restricted to emergency care and will therefore be limited to urgently needed medical essentials. In theory, it does not cover any treatment for which the person has deliberately travelled abroad.

The statutory institution of the patient's home country will ultimately pay for the treatment received, according to fees charged in the guest country. However, as in many such cases, reality is quite different. For many years, tourists have found that this claims form has shown a falling degree of acceptance in many EU Member States, even if that is contrary to European legislation. Therefore, emergency healthcare invoices for under 1,000 euros will be reimbursed by the healthcare institution of the patient's country of residence, according to the national reimbursement limits of its institutions. This requires the patient's attention because, in certain cases, the foreign invoice might be much higher than what would be reimbursed at home. It should be noted that this Regulation only affects healthcare bills to be footed by a public institution. Different rules apply to people ready to pay privately, or to claim compensation from a private health insurer. For many decades this has been, grosso modo, the only widespread form of cross-border access to healthcare.

Rulings of the ECJ and the EU Market of Health Care
After a lengthy process, involving vital economic and political interests of the Member States and their national healthcare systems, the ECJ rulings meanwhile established a general right of a patient to address him/herself to another Member State for almost any kind of outpatient treatment. Irrespective of the mode of remuneration of the home country - e.g. whether they apply a system of cost-reimbursement or 'benefits-in-kind' - they should be obliged to reimburse at least up to the limits of what they would have paid if the treatment had occurred at home. This leaves the patient in quite a difficult situation: millions just do not have a clue about how much a visit to a doctor actually costs, let alone whether the price charged abroad is the normal tariff there - or a fancy amount several times higher. Moreover, little, if anything, will be known about the ultimate reimbursement of the home institution: if it is actually willing to pay or would have to be forced to do so, if need be by legal action. Consequently, despite long waiting lists, there has not been too much demand, in most EU Member States, even for simple visits to doctors. Furthermore, it is still legally undecided whether or not a person from a Member State with a GP gatekeeper system, i.e. without the patient's right to go to a specialist straight away, may deviate from this line when abroad. At least this does not seem likely, because on no occasion did the ECJ wish to infringe on national structures and their individual restrictions.

In terms of inpatient care, all forms of hospital treatment involving public institutions and public planning are even more difficult. It is now clear that hospital treatment is a service within the EU meaning of this term. It is also clear that the particular nature of the hospital setting, above all the high degree of public provisions and planning, requires a patient to formally apply to his/her paying body - usually the health service or social health fund - for coverage of treatment abroad. Contrary to former times, nowadays these institutions will have difficulties in automatically turning down such a wish without examining that particular patient's individual situation. If a waiting list at home accounts for 'undue' problems for the patient, the OK for such a treatment should ideally be given without further bureaucratic ado. However, in reality this will be less than simple: many a waiting list has its origin in rigid cost-containment and thus may not be expected to be thrown overboard. Consequently, what an individual patient might expect upon presentation of such a claim is virtually unknown.

Only a few Member States have slowly but surely introduced transparent ways to find one's way to treatment abroad in the case of additional suffering due to waiting-lists at home. Even if this element of the EU market liberties may gain in momentum, the financial situation of many national systems of healthcare are rapidly declining and might place a limit on cross-border access to care. National governments have tried to find a compromise between, on the one hand, unilateral streams of patients from waiting-list-countries to those not marred by that symptom and, on the other, the current widespread lack of transparency concerning access of non-individually paying patients. A High-Level Committee has tried to find a solution acceptable to all parties and national institutions have signed contracts with care providers abroad. How far this will actually help, only the future can show.

Central and East European Member States (CEEC)
The huge EU enlargement project has had only a limited direct impact on national healthcare systems. Due to the principle of subsidiarity (the national prerogative to mould one's own healthcare system) the Commission has no right to force a Member State to improve its public system of social protection, unless it actually collides with existing EU regulations, e.g. coordination according to the Regulation 1408/71 is definitely not possible. Despite to-the point-assistance to CEEC healthcare systems and a certain amount of noteworthy progress there, problems remain galore. These difficulties are characterised by a still weak income situation and widespread poverty, a very low income level for next to everybody working in the public sector, including doctors and other hospital personnel, as well as financial handicaps of the paying institutions - whether independent social funds or bigger structures, such as state-wide health funds. There is a widespread black market for healthcare involving backhanders and 'under-the-counter' payments, which undermine the values of statutory health insurance. The burden of citizens' access to healthcare will have to be shouldered by the public systems which, to fulfil this important task, are in urgent need of improvements. Unfortunately, this coincides with the generally dire situation for systems of social protection because high unemployment is adding the omnipresent demographic challenge.

On the other hand, remarkable progress has been achieved in many hospitals and potential sectors - mostly spa-treatments and rehabilitation - have almost gained fame as potential future centres of best practice. However, as things stand, these are normally not open to patients who rely on social insurance coverage. Patients from CEEC who wish to improve their lot by crossing borders to West European Member States to seek treatment will find it hard to make their home institutions pay, and even if they do succeed, they may not be happy with what they receive. Given the generally low income level, it is unlikely that many patients will base their claims on the EJC rulings. Instead it seems more likely that a generous interpretation of Regulation 1408/71, which concerns 'emergency' cases, might arise, and, if utilised in a larger number of cases, lead to serious financial problems for the CEEC institutions.

The private consumer
With growing individual wealth more citizens will be ready and willing to spend private money on their health. For these, the EU healthcare market already has wealth to offer, and EU regions are competing for customers looking for wellness activities or private treatment. It stands to reason that regions specialising in such offers will benefit from future developments.

Private health insurance
This is a highly diverse field of support for coverage of cross border care. With the exception of Germany and, (hugely different) the Netherlands, there is no EU system where compulsory membership or public coverage might be replaced by private insurance. CEEC have only shown a very limited growth of private health insurance and are evidently not yet considering a promising and therefore proper market. Consequently policies, and their small print, will vary almost from case to case making it difficult to provide the reader with a rule of thumb. Therefore, anybody wishing to make a claim involving cross border access to care should carefully read the general rules and conditions of his or her individual policy. Under no circumstances should so-called 'holiday' insurance, i.e. private travel insurance for a short or at least limited stay abroad, be misunderstood as a passport to free access to care abroad. Next to nowhere else are restrictions more subtle than in this case where, of course, only emergencies occurring during short term stays are concerned.