A new era of patient care
Paramount to reduced costs and a shortage of skilled professionals, improved quality of care and patient satisfaction are the leading priorities in healthcare today.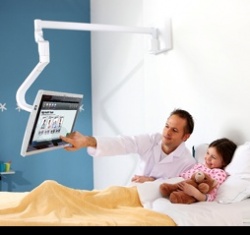 In the US, e.g., this is reflected by new pay-for-performance measures that tie hospital reimbursement to patient satisfaction. Additionally, with about 1 in 4 people talking about their health experiences on social media, healthcare providers want potential patients to perceive them in a positive way.
With this increased focus on patients, providers need to step up their game. Perceived quality delivered is pivotal, therefore satisfying patient needs comes first. Interactive technologies can play a key role in service differentiation, bringing a host of services to the patient's fingertips.
Interactive patient care: the new drug
Interactive services include high-quality entertainment and communication options –including TV, radio, movies on demand, games, Internet, telephony, and chat – which have become commonplace at our homes. Now, these services are available at the bedside – through leading-edge technology and intuitive software interfaces.
With the emergence of these interactive tools, we've entered a new era of patient care. Interactive care not only provides patients with high-level communication and entertainment options at the bedside, it also allows them to play a more active role in the care process. Healthcare providers believe that facilitating patient participation – through education and feedback options – significantly improves quality of care and helps position themselves for success.
Tools providing educational videos on health-related topics, pain management, and medication help increase patient understanding. With high health literacy linked to lower rates of hospitalization, interactive patient education has proven to improve outcomes. Healthy patients are happy patients.
Patient needs under scrutiny
At the same time, interactive care includes extensive feedback tools, allowing providers to continuously capture and monitor patients' needs. Offering a deeper understanding of how patients perceive the care they receive and allowing providers to act upon results in real time, interactive patient care supports service improvements while further increasing patient satisfaction.
Gaining a competitive edge
There's a growing awareness that the benefits of high patient satisfaction also translate into economic gains, making providers go the extra mile to cater to their patients' needs. Initiatives to measure patient satisfaction are being implemented in hospitals worldwide.
In the US, the HCAHPS (Hospital Consumer Assessment of Healthcare Providers and Systems) survey provides a standardized methodology for measuring patients' perspectives on hospital care. These scores directly impact reimbursements from insurers and give providers a competitive edge.
Beyond doubt, patient satisfaction has become a measurable and focused target for healthcare organizations today. Interactive patient care supports the goals of personalizing the patient experience while enhancing quality of care. It even allows seamless collaboration with all hospital applications for a patient-centric workflow. More on this in our next issue.