DRG Instruments GmbH
DRG Instruments – DRG:Hybrid-XL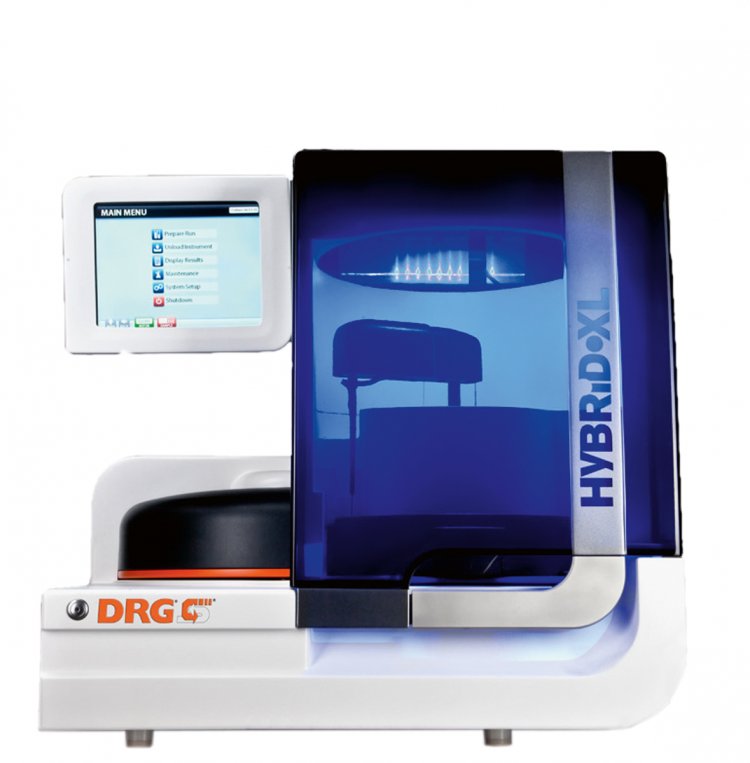 Sample throughput: 40 fully automated tests per run
Assays:
SARS-CoV-2 (RBD) Total Ab
SARS-CoV-2 (RBD) IgG (quantitative)
Brand New: AMH (Anti-Mullerian Hormone)
Unique Stool Diagnostic Test: Pancreatic Elastase, Calprotectin
Tests for Celiac Diseases: Anti-tTG, Anti-DGP
More unique assays: Hepcidin-25, Salivary
Cortisol, 17-OH Progesterone
Dimensions: 600 × 600 × 630 mm (h × w × d)
Highlights:
DRG:Hybrid-XL is a fully-automated bench top analyzer with high flexibility and an intuitive user interface, that simplifies daily work. This unique technology allows the simultaneous determination of immunoassays, immunoturbidimetry, as well as clinical chemistry tests in the same sample. Calibration is provided via barcoded master curve and a two-point re-calibration set. Calibration as well as reagent cartridges offers a long stability.