1st partial knee system launched in Europe
Until now, orthopaedic surgeons have had limited options for the treatment of progressive degradation of the knee joints (osteoarthritis) in active patients who require care, but are not yet ready for a total knee replacement. DePuy Orthopaedics EMEA now launches the first complete surgical system Sigma® High Performance Partial Knee, specifically designed to treat progressive osteoarthritis of the knee in Europe.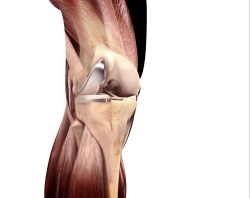 Osteoarthritis is a progressive condition characterised by loss of joint cartilage that leads to pain and loss of function primarily in the knees and hips. Patients typically experience; joint pain, tenderness, movement limitation, occasional effusion (fluid) and variable degrees of local inflammation. According to the World Health Organization, osteoarthritis is the most common type of arthritis or degenerative joint disease in the world, and a leading cause of chronic disability.
The new high function, low wear Sigma® High Performance Partial Knee by DePuy, a Johnson & Johnson company, has been specifically designed to meet the needs of this important and growing patient population. The system enables surgeons to repair only the parts of the knee that are damaged and further parts can be added if the disease progresses. This allows for patients to achieve full function and pain relief at all stages of this degenerative disease.

"Sigma® High Performance Partial Knee is a major step forward for the growing number of active patients in their 40s and 50s requiring knee surgery", comments Professor David Barrett, Consultant Orthopaedic Surgeon, Southampton University Hospital, UK. "The profile of knee replacement patients in Europe is changing, with patients getting younger and living more active lifestyles, the technological demands on the devices are increasing. It is important that we are now able to provide active patients with a surgical solution better suited to their lifestyle and expectations."

Sigma® High Performance Partial Knee is the first truly modular system specifically designed to allow uni-compartmental, bi-compartmental or staged replacement* of the knee joint, meaning surgeons can match the implant specifically to a patient's disease state. Now joint repair can be targeted so that healthy bone, cartilage and ligaments remain intact. The preservation of the natural tissues around the treated knee allows for a high level of movement, enabling most patients to carry on with active working and social lives post surgery.

Sigma® High Performance Partial Knee is expected to be welcomed by surgeons across Europe as with lengthening life expectancies and ageing populations, the condition is set to become the fourth leading cause of global disability by 2020. An increasing trend seen is joint damage and degradation in younger people. In the UK for example, approximately a fifth of people aged 45–64 years old suffer osteoarthritic knee pain, and an estimated quarter of adults ≥50 years old report disability from severe knee pain.

"The availability of DePuy's new partial knee system is important. It addresses an unmet need for a growing number of patients who only require partial knee replacement to ensure relief from the pain and discomfort of a total knee replacement", notes Dr Florian Gottsauner-Wolf, Department of Orthopaedics, Landesklinikum Krems, Austria.