OR Technology (Oehm und Rehbein GmbH)
Leonardo DR mini ll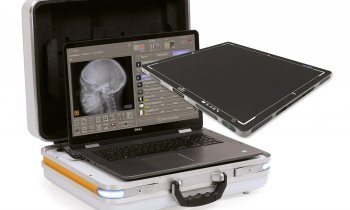 Size: 14 × 17" / 12 × 10"
Detector type: a-Si / CsI
Pixel size: 100 /120 /139 /140 /154 μm
Highlights
At only 8.9 kg, the Leonardo DR mini II is one of the world's lightest portable X-ray case systems. The high-quality plastic processing and the well planned space concept form the basis for a practical case for any outdoor use. The suitcase solution is quickly ready to go and easy to use. All components are integrated in the X-ray case. The 17" laptop can easily be removed from its holder in the case and used as a tablet for presentation purposes. The notebook is equipped with the OR software.