Canon Medical Systems Europe B.V.
Canon Medical - City Hopper
Mobile CT Solutions
Deployment type:
Container base
Deployment type:
< 1 hour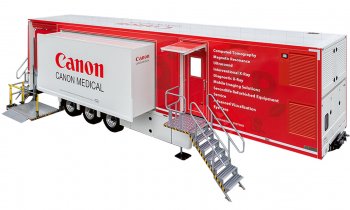 Highlights
The CT City Hopper is designed to bridge new equipment installations or temporary high workloads at hospitals or clinics. The trailer is equipped with an Aquilion Prime SP CT scanner which features the latest Advanced intelligent Clear-IQ Engine (AiCE) reconstruction. The design of the trailer, featuring expandable sides and patient lift for in-bed patients, allows high patient throughput without compromising on patient safety, workflow, or image quality.
* Upon request, other imaging modalities can be included in the CT City Hopper