ECR 2015
Screening as part of prediction
According to the Korean National Cancer Registry, lung cancer is the second most common malignant tumor in Korea. Trials to reduce mortality rates from lung cancer have been performed over many years like screening using low-dose CT (LDCT). It has been reported to be effective at detecting small lung cancer. Prof. K.S. Lee presented his experience with screening at the Samsung Medical Center where he is working at the Department of Radiology and Center for Imaging Science and Division of Pulmonary and Critical Care Medicine in Seoul, Korea.

Report: Chrissanthi Nikolakudi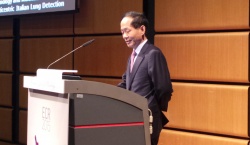 It has been reported to be effective at detecting small lung cancer. Prof. K.S. Lee presented his experience with screening at the Samsung Medical Center where he is working at the Department of Radiology and Center for Imaging Science and Division of Pulmonary and Critical Care Medicine in Seoul, Korea.
12.427 individuals completed three rounds of annual LDCT screening for lung cancer – 5.771 with LDCT and 6.656 with CXR. Risk stratification includes more than 30 person years of smoking and over 55 years of age by NLST National Lung Screening Trial (by European criteria over 20 person years and over older than 50 years) and never-smoking women. Lee found out that for the Asian non-high-risk-group, LCT helps detect more early staged LCAs. Furthermore, the CT detected lung cancers in non-high-risk-subjects demonstrate better survival than CXR detected cancers and are predominantly part-solid or non-solid ADCs.
The mortality benefit of LDCT screening for the non-high-risk people still needs to be investigated but what Lee already can say is the that LDCT appears to work for reducing LCA related mortality – at least it appears to be beneficial in detecting lung cancer and lengthening survival. That's why LDCT Establishment Committee recommends nation-wide screening in high-risk group but government does not yet determine to do or not to do so. Thus, screening in South Korea is now being performed on personal basis, on person's willingness and with their own payment.
Not only in lung cancer detection but from the latest biomarkers through to genomics and metabolomics, the screening of larger patient groups is becoming an increasingly important part of the prediction.