Cancer
Researchers develop biosensor to detect malignant tumors before they form
Researchers from the Complutense University of Madrid have developed a biosensor capable of detecting cancer antibodies in patients with colorectal and ovarian cancer.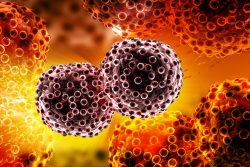 When a malignant tumor is forming, the body's immune system creates autoantibodies against the mutated p53 protein. The presence of these antibodies is picked up by the biosensor, alerting clinicians of the advancement of the cancer.
"The presence of antibodies ... could be indicative of the existence of a neoplastic disease already initiated or of the risk of developing cancer in the near future," said Rodrigo Barderas, of the UCM and co-author of the work.
University of Madrid worked with the Instituto de Investigaciones Biomédicas to develop the biosensor to detect the antibodies in the serum of patients with cancer and those at high risk of developing cancer.
In a study, researchers enrolled four patients with colorectal cancer, two with ovarian cancer and 24 patients at high risk of developing malignant colorectal cancer due to family history. Results showed that, when compared to other methods, the biosensor had a 440-fold higher sensitivity and improved discrimination between showing a positive or negative result. The bio sensor is also easier to handle and can complete a test in less than six hours, a much more quickly when compared to many other methods.