EUROMEDLAB
Europeans meet at Clinical Chemistry & Laboratory Medicine Congress in Paris
21-25 June 2015 - Palais des Congrès of Paris, France
Exceptionally this year, the 21st IFCC EFLM Congress with of the 60th Journées Internationales de Biologie (JIB) will be held together to form a very special event.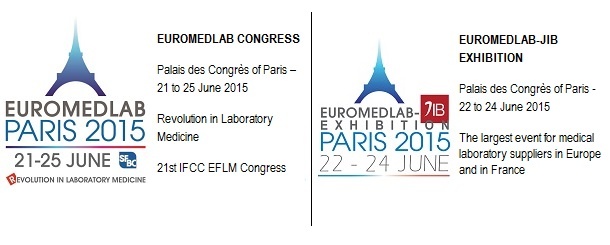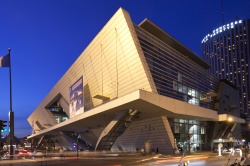 EUROMEDLAB CONGRESS
Revolution in Laboratory Medicine - A multidisciplinary and high quality scientific programme
The motto of the programme «R-evolution in Laboratory Medicine» perfectly illustrates the evolution of the medical biology, not only with the scientific, technological and operational innovations presented but also with the associated professional practices that are highlighted.
27 symposia
5 plenary lectures
3 professional sessions of the Syndicat des Biologistes
48 educational workshops held by industrials
3 satellite meetings before and after the event
1.280 posters displayed on three days by topics on two dedicated areas (levels 1 and 2).
Daily poster walks will be held on Monday, Tuesday and Wednesday from 1.30 to 2.30 pm.
Warning: Posters differ by topic every day.
EUROMEDLAB-JIB EXHIBITION
The largest event for medical laboratory suppliers in Europe and in France
170 companies, suppliers for medical biology laboratory and biotechnology companies will present their latest innovations in automation, reagents, services and IT solutions…
Visit the Innovation Gallery that gathers innovative structures (level 1).
Registration to visit the exhibitor is free of charge.
Click here to get your visitor badge
Download the Final Programme, register for the Congress and the Exhibition, find practical information regularly updated on the official website of the event