CT Imaging
Clinical CT lung screening: coping successfully with enormous demand
Virtual academy by MeVis Medical Solutions AG and Lahey Hospital & Medical Center helps to train imaging teams
RSNA 2014: With lung screening approved by the CMS, MeVis Medical Solutions and Lahey Hospital & Medical Center launch virtual CT lung screening academy designed to educate radiologists and further screening team members on current guidelines, reporting standards, and interventional techniques.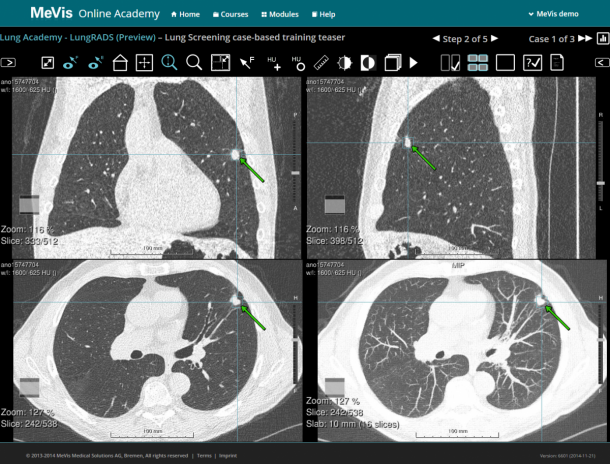 Lung cancer is the number one cancer killer in the United States. The National Lung Screening Trial had proved that CT lung cancer screening (LCS) can reduce deaths due to lung cancer by at least 20% in individuals at high risk. The resulting endorsement of LCS by the United States Preventive Services Task Force means that millions of high-risk Americans will be granted insurance coverage for annual LCS beginning in 2015. In addition, the Centers for Medicare and Medicaid Services (CMS) recently approved CT lung cancer screening for a large number of U.S. citizens covered by Medicare and Medicaid. "Hundreds of CT lung screening programs will be required throughout the United States to meet this oncoming demand. Organizations providing screening services should consider establishing an internal credentialing process for those radiologists interpreting the exams to ensure they are up to date with current guidelines and reporting standards", explains Brady McKee MD, Section Head, Thoracic Imaging Radiology, Lahey Hospital & Medical Center (LHMC) in Burlington/Massachusetts, and co-founder of the hospital's "Rescue Lung, Rescue Life" CT lung screening program. LHMC launched their CT lung screening program in January 2012, and developed Lung-RADS™, a lung imaging structured reporting and data system, to interpret and code exams.
Lung-RADS™ helps standardize radiology interpretations and facilitates results communication and tracking, radiologist training, quality control, and research. The American College of Radiology subsequently adopted Lung-RADS™ and recommends its use for CT lung screening exam interpretation, quality metric calculation, and national registry participation.

Virtual CT lung screening academy
The new interactive online learning platform developed by medical software specialists MeVis Medical Solutions AG in Bremen and the multidisciplinary Rescue Lung, Rescue Life team at LHMC is packed with expert medical know-how and over 100 real CT lung screening cases, to help imaging organizations and individual radiogists meet this major education challenge. MeVis Online Academy is available, on a per-license basis, to individuals and organizations. Registration and payment is all online and no more complicated to complete than a typical online purchase. This intuitive, web-based application requires no installation and works on broad-band internet connected, consumer-grade computers. "I wish I had had this kind of flexible and powerful learning tool at my disposal when we first started our CT lung screening program", outlines Dr. McKee. "I recommend it to all institutions establishing internal radiologist credentialing standards and any member of the lung screening care team interested in a convenient and comprehensive CT lung screening learning environment."
RSNA 2014: Meet the experts
MeVis will showcase solutions for radiologists at booth 2965-F in hall A, South Building, German Pavilion. From Sunday through Tuesday, renowned experts will be available to discuss current approaches to lung screening and solutions available to support them.
Schedule: Meet the experts at RSNA 2014!
More Information:
MeVis Medical Solutions AG
Martina Hallmann
Public Relations
Caroline-Herschel-Str. 1
28359 Bremen, Germany
Phone: +49 421 22495-301
E-mail: martina.hallmann@mevis.de