Blueberries
Can blueberry concentrate improve brain function in older patients?
A new study published in Applied Physiology, Nutrition, and Metabolism found that consuming blueberry concentrate over a 12-week period might help improve brain function in healthy older adults.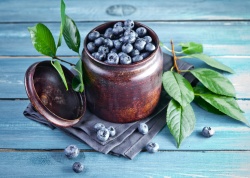 Researchers from the University of Exeter in the United Kingdom gave participants at random either a 30 ml blueberry concentrate providing 387 mg anthocyanidins or an isoenergetic placebo. Participants underwent MRI scans for cognitive function tests before and after supplementation. The researchers tested quantitative resting brain perfusion by using an arterial spin labeling (ASL) technique and blood biomarkers of inflammation and oxidatidative stress were measured.
"Significant increases in brain activity were observed in response to blueberry supplementation relative to the placebo group with Brodmann areas, precuneus, anterior cingulate, and isula/thalamus, as well as significant improvements in grey matter perfusion in the parietal and occipital lobes," wrote the authors.
Data suggests improvement in working memory after blueberry versus placebo supplementation. Those who received the blueberry supplement also had improved brain perfusion and activation in brain regions linked with cognitive function in healthy older adults.
Source. HealthImaging