Article • Conference
3rd International Conference on 3D Printing in Medicine
Due to its great success over the past couple of years, the International Conference on 3D Printing in Mainz has established itself as an internationally recognised event in the field of medical 3D printing. On 4th and 5th May 2018, the 3rd International Conference on 3D Printing in Medicine will therefore be hosted at the Electoral Palace in Mainz, where once again renowned international doctors, materials scientists and engineers will meet to present new and exciting developments and possibilities in the different areas of 3D printing in medicine.
Various medical disciplines, such as oral and maxillofacial surgery, vascular surgery, trauma surgery, orthopaedics and neurosurgery will introduce clinical applications and new developments in this innovative and dynamic area of research. Interdisciplinary exchange in the areas of materials science and engineering will also provide stimulating and exciting discussions.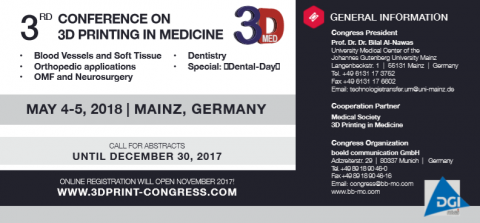 3D printing now makes it possible to plan a large number of operations in advance, thereby bringing about noticeable improvements. 3D printing also makes it possible to manufacture customised implants, which can significantly improve patient treatment. In addition to the enormous variety of exciting fields of application, the 3rd Conference on 3D Printing in Medicine will pay particular attention to new developments in 3D bioprinting. This technology makes it possible to reproduce organic tissue and arrange living cells precisely in three-dimensional structures. While many developments are still in their infancy, experts see great potential, especially in this technology, to produce functional tissue or even entire organs in the future.
There are also other questions to which the conference wants to provide answers: What developments and advances are there in the area of medical 3D printing? In which medical disciplines is 3D printing already being used to provide specific solutions? Which materials are being used to manufacture individual implants and what makes the newly developed materials stand out? Which technologies are being used and how are they being developed?
This year, for the first time, the "Dental Day" will also be held at the conference on Saturday 5th May 2018. By working with research, industry and users, the event will assess what is now already possible in the field of additive manufacturing in dentistry and where developments will go in the future.
Once again, the conference on 3D Printing in Medicine offers wonderful opportunities for networking between medical practitioners, research and industry. We would be delighted if you were able to join us.