Welcome to Düsseldorf! At this year's Medica, more than 4,400 companies and hundreds of expert speakers will outline "where healthcare is going", to cite the trade fair's motto. Visitors will gain insights into innovative solutions in imaging, lab medicine, AI, robotics and more, and the emerging topic of sustainability in healthcare will also feature prominently. Enjoy browsing!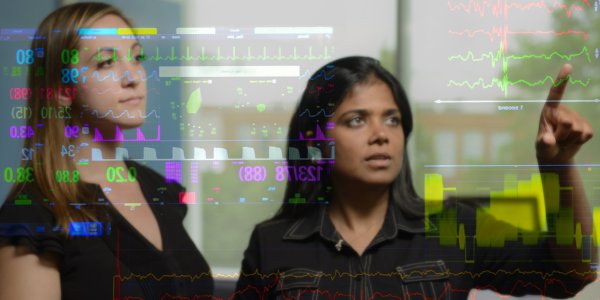 Article • Targeted Real-time Early Warning System for hospitals
Sepsis, a life-threatening, systemic, toxic bodily reaction to infection, is often difficult to detect in its early stages. Its symptoms, including fever, shortness of breath, rapid heart rate, and confusion, are associated with many medical ...
Article • Developing a sustainability calculator
There is a growing awareness of the healthcare sector's adverse impact on the environment due to its emissions of greenhouse gases (GHG). A recent report from the non-profit organisation Health Care Without Harm (HCWH) finds that globally, ...
Advertisement

Article • Early detection approach
New tests can identify over 50 types of cancer and boost detection of traditionally elusive cancers from tumour DNA in blood, researchers showed at the ESMO congress in September. These multi-cancer early detection (MCED) tests in development can ...
Article • Visceral imaging
Endosonography poses unique challenges for medical professionals, because two demanding disciplines have to be mastered at the same time. The use of artificial intelligence (AI) could help speed up the notoriously slow learning curve of the ...
Advertisement

Sponsored • 3D single-port surgery and 3D endoscopic sleeve gastroplasty
One of the world's leading endoscopic imaging system companies, MedicalTek (MDTK) from Taiwan, launches its brand new endoscopic visualization system, Darwin MS-301. While keeping the main feature – conversion of 2D endoscopic images to 3D – ...
Article • Don't miss:
At this year's Medica tradefair, laboratory medicine, medical technology and life sciences give new impulses to the entire healthcare market - especially in times of the corona pandemic. An overview.
Advertisement

Article • Rehabilitation technology
Innovative robot systems are being designed to help patients regain mobility and rehabilitate after undergoing surgery. In addition, robotics can be deployed to help older people stay active and fit so they retain their independence for longer.
Article • Wearables at Medica 2022
A smart-ring medical device is emerging as an effective and discreet wearable for round-the-clock blood pressure monitoring. Using photoplethysmography (PPG) signals to measure the bloodstream 24/7 through the wearer's finger, a new feature of the ...
News • Real-time audio and video connection
Eye4Care is a frontline healthcare staff support service, based on a proprietary platform, which enables real-time audio/video connection between healthcare specialists and the staff treating patients.
ePapers
Article • Information & insights
Article • Trade fair special
You are receiving this email because you subscribed to our newsletter on healthcare-in-europe

If you don't want to receive this newsletter anymore, click here to unsubscribe.


Keep up-to-date on the latest news from all hospital-related fields!
Subscribe to our bi-monthly newsletter.

Copyright © 2023 mgo fachverlage GmbH & Co. KG.
All rights reserved.

E.-C.-Baumann-Straße 5, 95326 Kulmbach, Germany