CT imaging, while essential for saving many lives, can also help identify causes of death. At an international radiology congress, three experts explored the benefits of post-mortem CT. We also look at the digital arms race between cybercriminals and healthcare IT experts, the impact of the Covid-19 pandemic on lung cancer care and much more. Enjoy reading!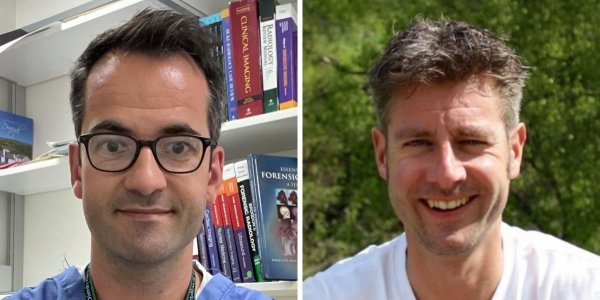 Article • Disaster victim identification
Post-mortem CT (PMCT) increasingly supports pathologists, radiologists and forensic investigators particularly in cases of gunshot fatalities, mass casualties, decomposed and concealed bodies, fire deaths, diving deaths, non-accidental injury cases, ...
Article • Cybersecurity in hospitals
Since 2015, the number of known ransomware attacks has not only increased substantially across many industries. Hospitals, and the healthcare industry in general, have also become favorite targets of ransomware attackers, leading to very real ...
Article • IT security
Of all the methods used in identity and access management (IAM), biometrics is arguably the oldest: it has been around long before IAM was a "thing". Humans are naturally optimized for recognizing fellow humans' faces, voices and other ...
Article • Covid-19 and pathology
The impact of the coronavirus pandemic on lung cancer patient care across Europe, and the contribution lung pathologists, have led to a better understanding of Covid-19, as outlined during the 33rd European Congress of Pathology, Within 'The lung ...
Sponsored • Innovation
Febromed GmbH & Co. KG, the expert in delivery room equipment and medical accessories from Oelde, Germany, has developed "get up", an innovative handle system for radiology.
News • Additional costs that pay off
New research indicates that MRIs are cost effective for detecting breast cancer for women with very dense breasts detected by mammography. About 10% of women have extremely dense breasts, and current mammography screening guidelines do not recommend ...
News • Photon counting
The U.S. Food and Drug Administration (FDA) cleared the first new major technological improvement for Computed Tomography (CT) imaging in nearly a decade. "Computed tomography is an important medical imaging tool that can aid in diagnosing ...
News • Titanium-alloy knee plates
3D metal printing technology is producing personalised medical-grade titanium-alloy plates that perfectly fit individuals suffering arthritis of the knee. Engineers at the University of Bath's Centre for Therapeutic Innovation (CTI) working with ...
You are receiving this email because you subscribed to our newsletter on healthcare-in-europe

If you don't want to receive this newsletter anymore, click here to unsubscribe.


Keep up-to-date on the latest news from all hospital-related fields!
Subscribe to our bi-monthly newsletter.

Copyright © 2023 mgo fachverlage GmbH & Co. KG.
All rights reserved.

E.-C.-Baumann-Straße 5, 95326 Kulmbach, Germany