It's that time again: Our top 10 of the most-read articles reveals that Covid-19 still dominates discussions and headlines, even in its second year. However, with the advent of working vaccines in 2021, focus has notably shifted from mere detection of the disease to more curative measures – an important step. Also, important healthcare issues that were overshadowed by the pandemic slowly regain traction, such as addressing gender inequality in healthcare and new applications for AI.
Enjoy reading, stay healthy and stay tuned!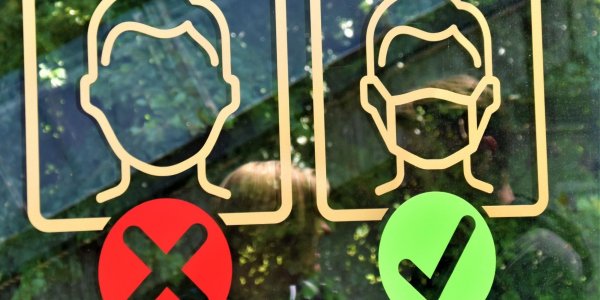 News • Expert debate on coronavirus protection
Should outdoor face covering be normalised to reduce transmission of SARS-CoV-2—or should anti-Covid efforts rather focus on indoor protection? Experts argue the case for both sides in this controversial debate.
News • Immune response or breast cancer?
For many women, swollen lymph nodes are a red flag pointing to breast cancer – but may also be a normal immune reaction to a Covid-19 vaccination. In this Q&A, breast imaging experts address the most important facts on the topic.
Article • Experimental therapy
Apheresis, a procedure that separates and removes particular blood constituents, shows promise for Covid-19 cases: the first patient successfully underwent so-called CRP apheresis, which can prevent potentially fatal consequences of the infection.
Article • Post-hospitalisation
Recovery duration, co-morbidities, mortality, risk groups: A large UK study reports in detail on 'Long Covid'. We spoke with two of the study's co-investigators about why so many patients are still affected after a coronavirus infection.
Sponsored • Reprocessing equipment
Due to their complex design, reusable endoscopes have been long recognized to require thorough reprocessing to properly disinfect. In practice, the drying of the endoscope is often underestimated.
Article • Gender issues
A national network of mentors and female role models, created by the British Cardiovascular Society (BCS), aims to encourage women to become cardiologists and end male dominance and negative and sexist comments.
Article • Innovation in intervention
Is artificial intelligence (AI) technology ready to be utilized as a clinical tool by interventional oncologists? Not yet, but when it is, AI technology's clinical impact may be as profound as advanced imaging is today, two leading experts agree.
Article • LVAD patients monitoring
A new research project will embrace the combination of 5G telecommunications technology and AI to offer continuous remote monitoring to seriously ill heart failure patients, for example those with Left Ventricular Assist Devices (LVADs).
Article • IoT in the clinical environment
A new platform allows hospitals to deliver improved organisational and financial performance by deploying an Internet of Things (IoT) sensor network to collect data and using AI to analyse the gathered information in a HIPAA-compliant way.
Article • Prevention
Blood cultures are important laboratory tests to diagnose serious infections. Contamination is a constant concern – a patient could be misdiagnosed due to a false-positive test. Initial specimen diversion (ISD) could radically change this.
Article • Radiology debate
Contact shielding is one of the most divisive areas in radiography. Is it still essential in protecting patients from radiation, or has new technology made this precaution obsolete? Two experts debated the issue at the ISRRT congress in Dublin.
You are receiving this email because you subscribed to our newsletter on healthcare-in-europe

If you don't want to receive this newsletter anymore, click here to unsubscribe.


Keep up-to-date on the latest news from all hospital-related fields!
Subscribe to our bi-monthly newsletter.

Copyright © 2023 mgo fachverlage GmbH & Co. KG.
All rights reserved.

E.-C.-Baumann-Straße 5, 95326 Kulmbach, Germany