Contact free formaldehyde dilution
A fully automated mixing and dispensing station
Formaldehyde is used as preservative for biological samples (particularly in human and veterinary medicine) making this one of the most frequently used chemicals in pathologies.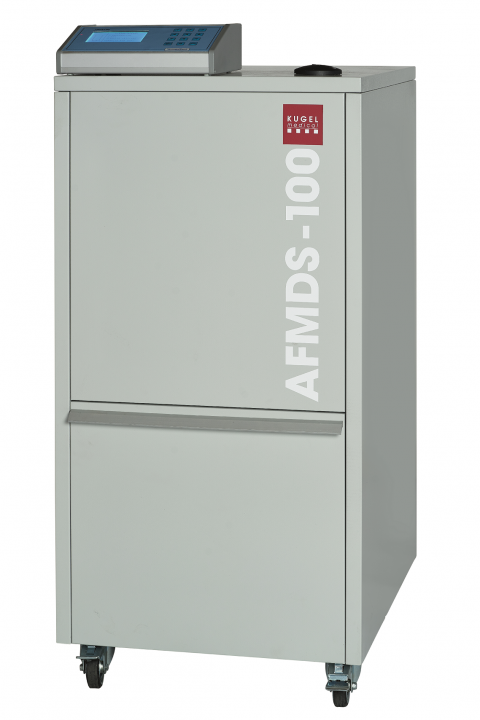 However, with every breath, laboratory staff takes up the harmful vapours of this carcinogenic chemical. We have developed a fully automated formalin mixing and dispensing system for contact-free formalin mixing to reduce the contact between laboratory staff and formalin to a minimum, which at the same time also significantly decreases formalin contamination in laboratories.
Due to its compact design, the Formamix from Kugel Medical is also suitable for small laboratories, the manufacturer reports. 'All operations, such as preparing a 3.7% standard formalin solution for tissue sample fixation, or a customised solution with variable quantities of formaldehyde, water and a buffer solution, are controlled through the new touch display.
'The integrated microprocessor allows you to save and recall your settings for later use. The prepared mixture can be drained directly from a tap at the device, or transferred to multiple remote stations that can be up to 200 metres away – a particularly interesting feature for laboratories with working stations in different rooms.
'The integrated pump enables you to dispense the exact quantity of the prepared formalin solution without dripping or leaking,' Kugel points out, adding: 'On the technical side, exhaust and ventilation technology has never been more important than now, especially energy recovery and filtration of pollutants play a main role in pathologies. This is why the Formamix can be easily connected to the on-site ventilation system, or operated through eco-friendly activated carbon filters to ensure that all vapours are vacuumed away safely and efficiently.
'Electronic and mechanical safety precautions keep liquids from overflowing to guarantee the utmost safety while Formamix is in use.'
Kugel is at MEDICA
Hall 3. Booth E93
Source: Kugel
More on the subject:
More on companies: